About Us
MiCam Namibia Cameras & Accessories CC
This Close Corporation is a newly established company dealing in Photographic
Cameras and Accessories.
Mike Pinsenschaum, well known in photographic business in Namibia, has been working the last 28 years in a renowned photographic shop in Windhoek. He was part of management for the last several years, doing sales and serving customers with all their photographic needs.
In April 2019 he started his new project MiCam Namibia Cameras + Accessories CC. Our aim is to have the first photographic online shop in Namibia and aims to deliver customer service via this online shop and direct delivery.
The advantages to you will be:
You have a free delivery in Windhoek. (Delivery within the rest of Namibia,will be done via courier, please read "Terms and Conditions")




Part of our service to you will be a 25 min introduction done by Mike on each camera or lens sold.

This training is for free and it will help you understand using your camera and equipment to the fullest.




If our customers need any advice or information regarding products on our website, you are always welcome to phone or email us.
Photographic equipment not shown on our website, please do not hesitate to contact us, we will do our utmost to get hold of that product for you.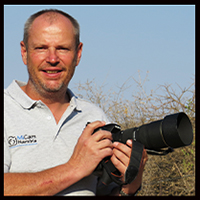 CEO Mike Pinsenschaum